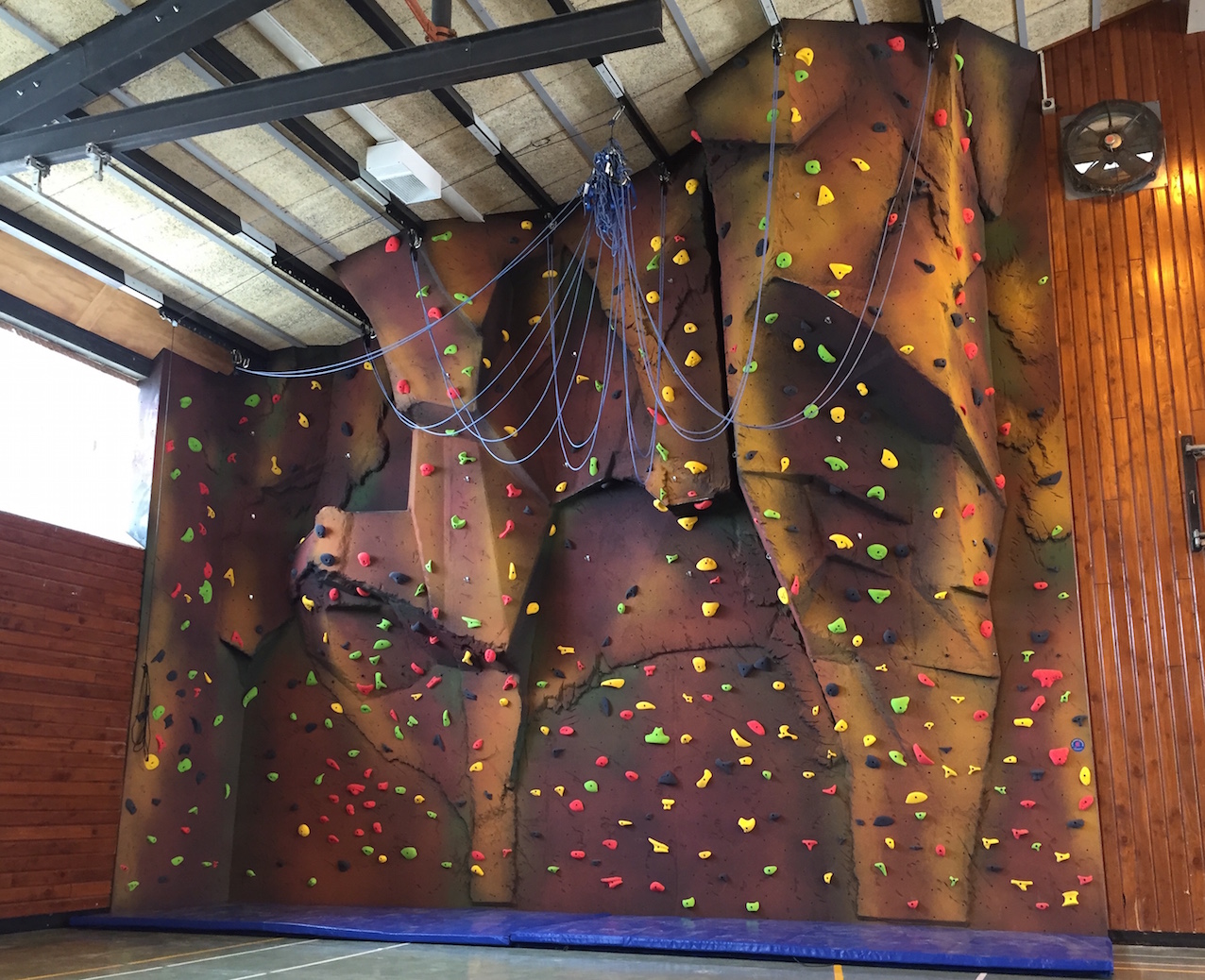 What school would not want one of these to broaden their PE or Sports programme?  The lucky students at Tarawera High School can now learn new skills and challenge themselves with toproping, leading, and abseiling. The top ropes pull up out of the way to enable other gym uses, and a fold-up mat stops unauthorised climbing. The RealRoc design offers a big variety of realistic terrain, including overhangs, cracks, layaways and chimney. And it looks so great it inspires the students!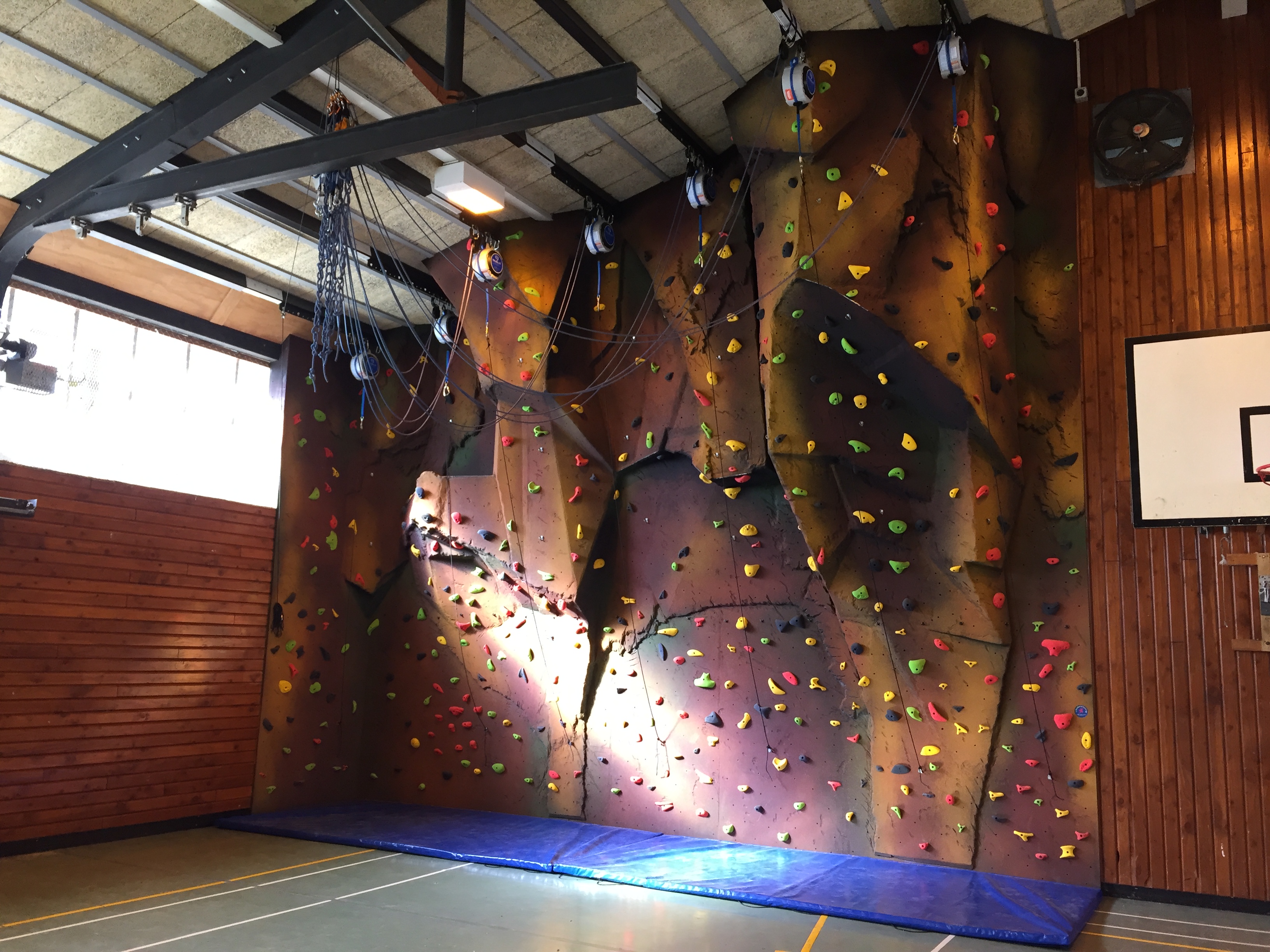 The Tarawera wall now fitted with autobelay devices as well as top ropes! Means less skilled staff can now run climbing sessions as they don't have to teach and monitor belaying ... they only need to make  sure climbers clip in. More climbing!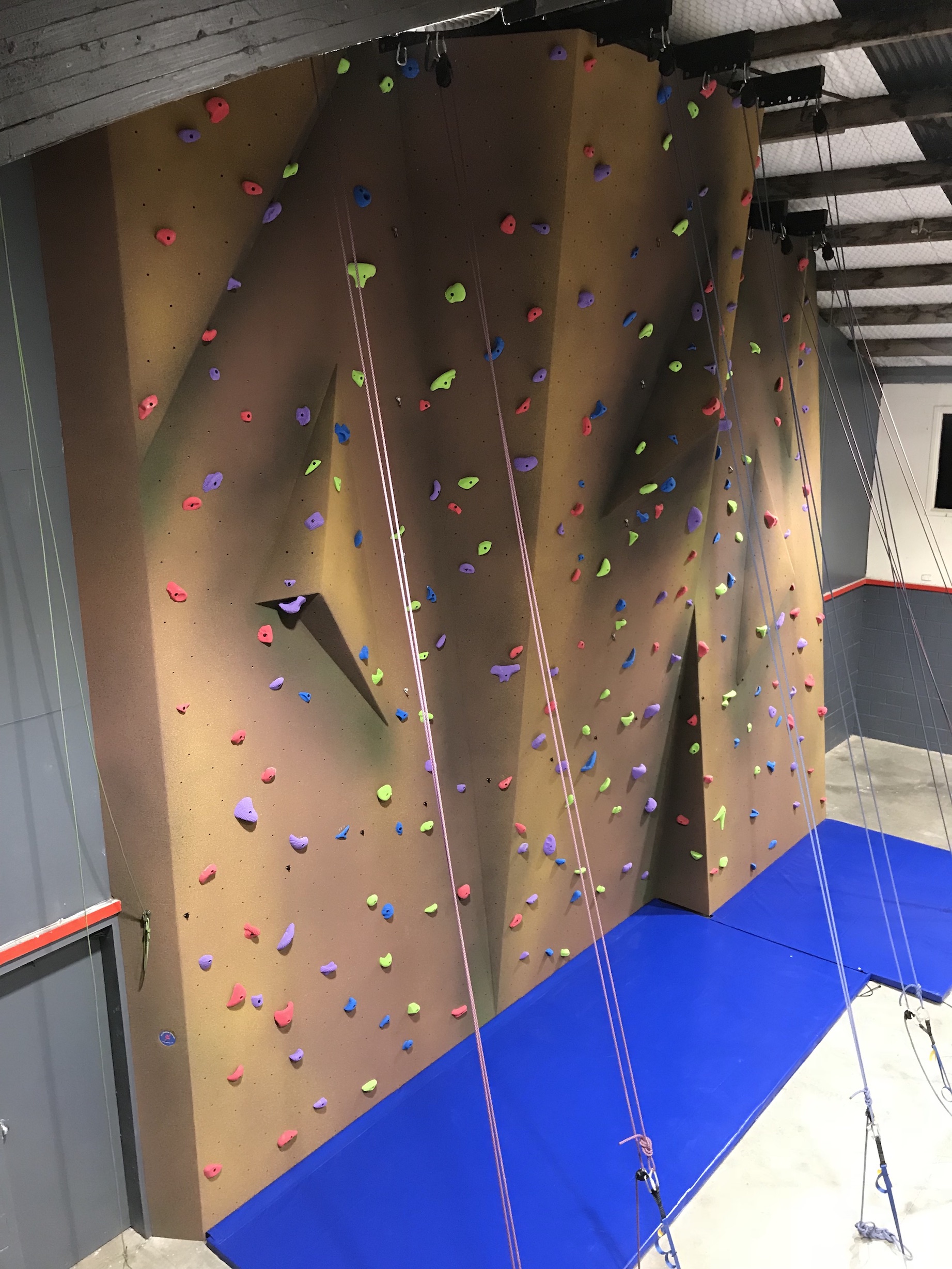 A great little PanelRoc wall for the customers (and staff!) of YMCA Kaitoke Outdoor Centre. Seven routes, three of them leadable. The climbing challenges of three angled walls are augmented by pods integrated into the surface. They look great don't they? And certainly add to the climbing interest.

The Kaitoke Wall, in 'not in session' mode. Mats folded up protect the wall and gym users, ropes pulled up clear the floor and stop unauthorised access. Very tidy!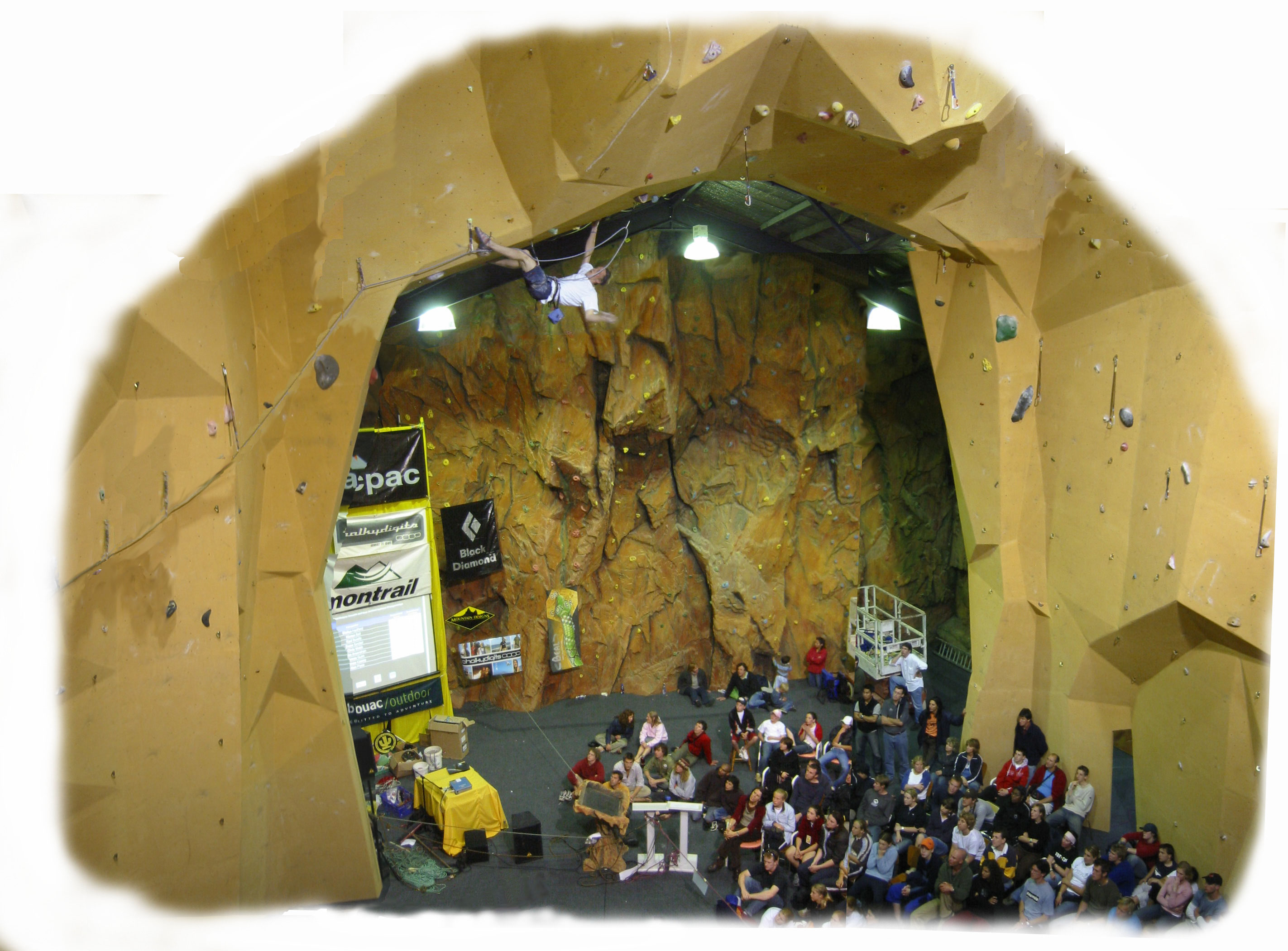 The YMCA Adventure Centre (previously the Roxx) in Christchurch is regarded as the most comprehensive facility in NZ. It has huge variety of terrain and surfaces, from the SportRoc competition surfaces (pictured), to the intermediate-friendly RealRoc Wall in the background.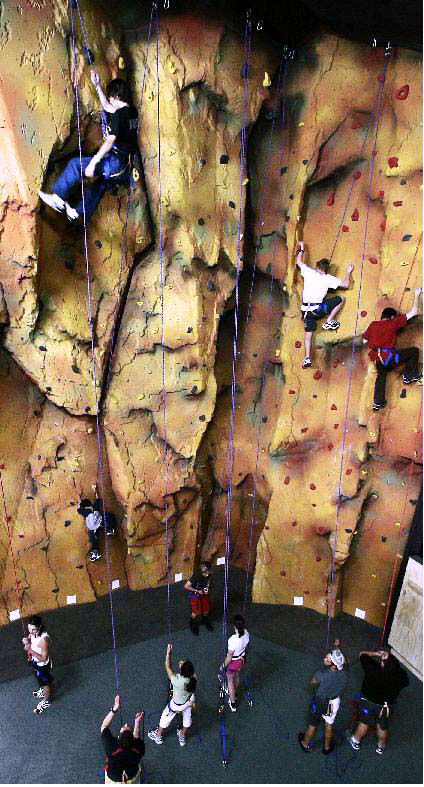 Tim's favourite Wall of all time, at Harvest Centre, Otorohanga. This RealRoc structure has some very cool climbing features including a large hanging buttress with a wonderful handcrack breaking through it, and a chimney which forces the climber to do all sorts of contortions.

SportRoc at Stadium Southland. At 14 metres high it's one of the highest we've done, and gives long, varied challenges. The colour scheme cleverly accentuates the height.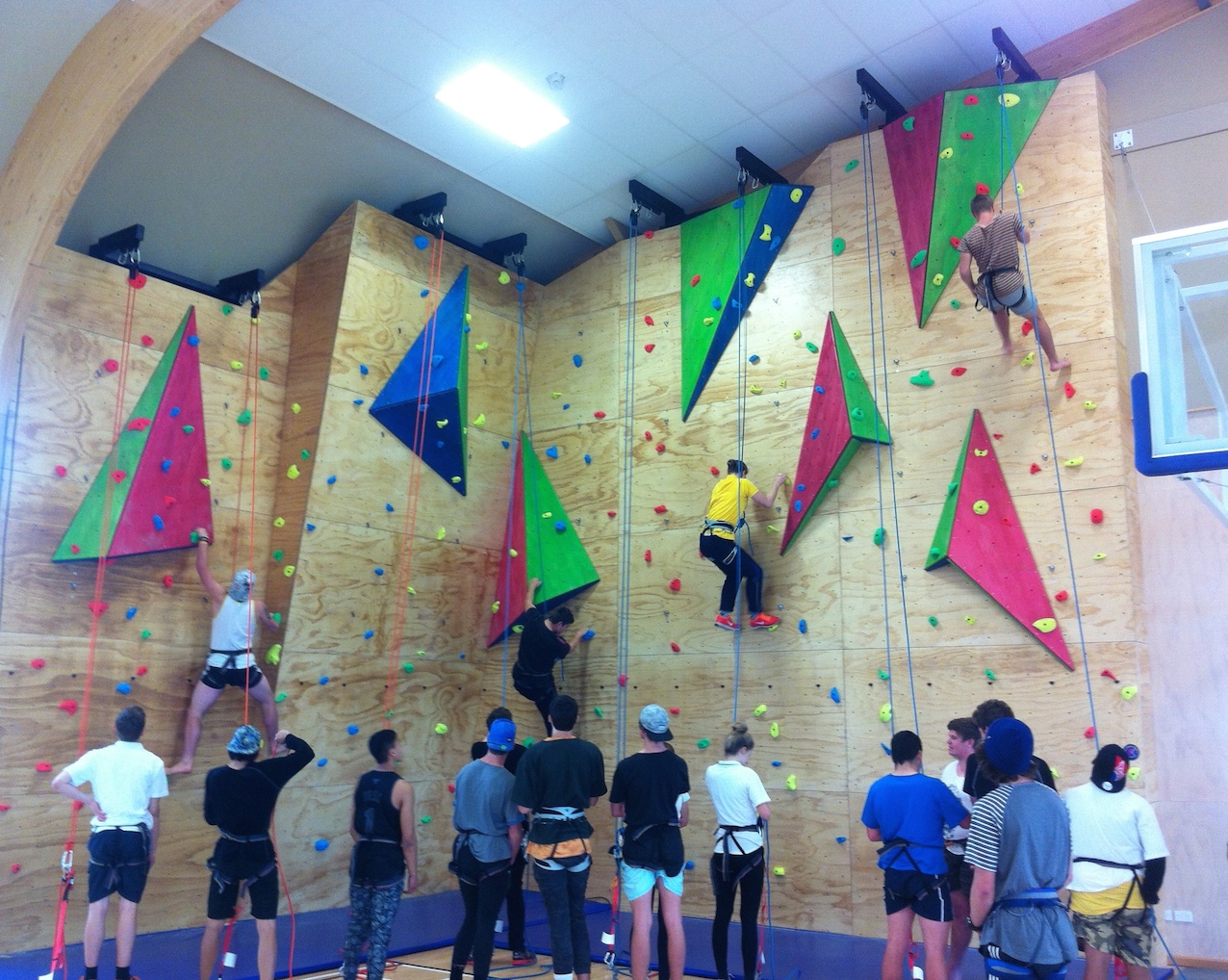 What you can do in small corner!  Mercury Bay School's PanelRoc Wall has three different angles and eight routes. It's fitted with tope ropes but could easily host autobelays as well or instead. The mats of course hinge up to clear the floor and close off the Wall, and the top ropes pull up out of the way.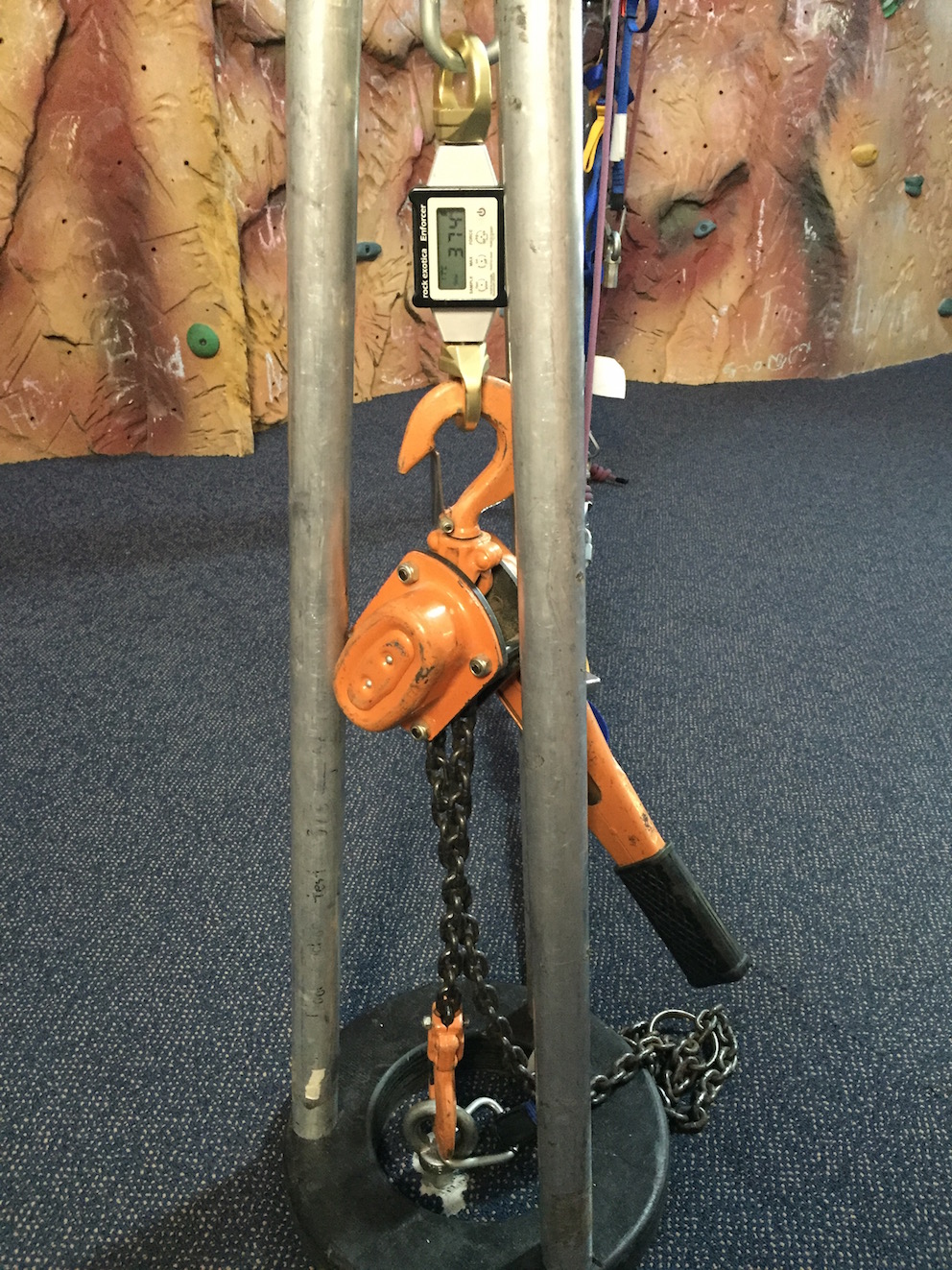 Load testing of ground anchors is something we do a lot of.  If the anchors are non-inspectable (e.g. imbedded in the concrete floor) they should be load-tested annually. We have all the equipment and skills needed to comprehensively load test all types of rope safety points; and to do all the other structural checks a good maintenance programme requires.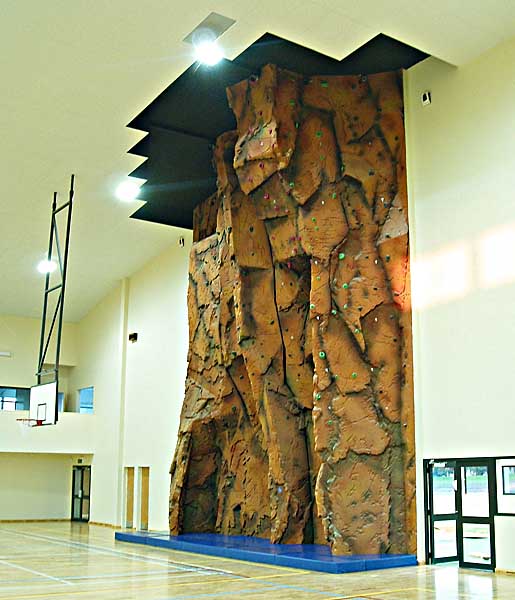 One of our favourite RealRoc Walls, at St Peters College, Cambridge. A high, imposing structure with abseil ledge and, unusually, bouldering features at the base.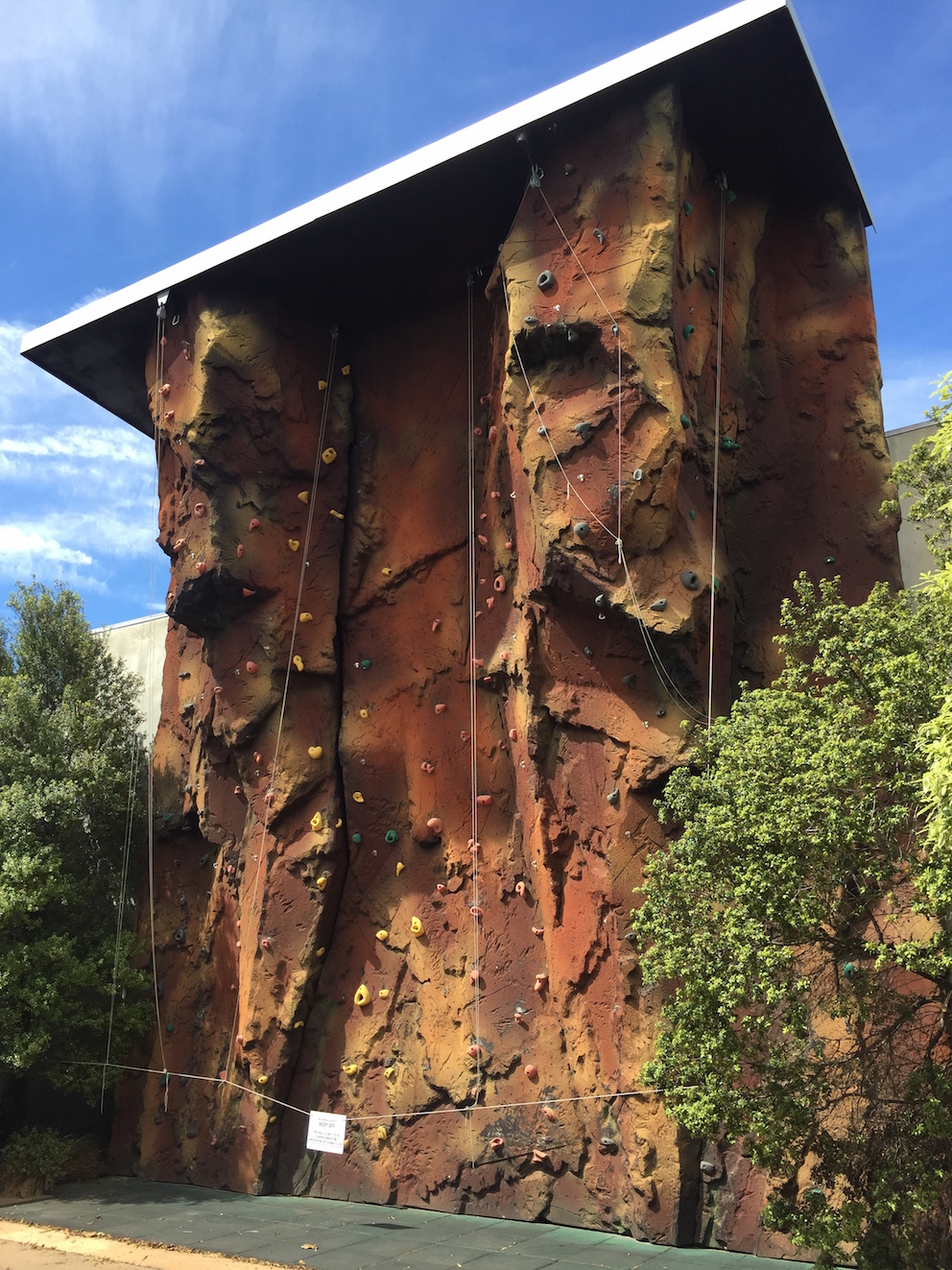 This RealRoc structure is outside! Some clever design made it free-standing and include a roof. Eight metres high, and seven varied, leadable routes. Impressive!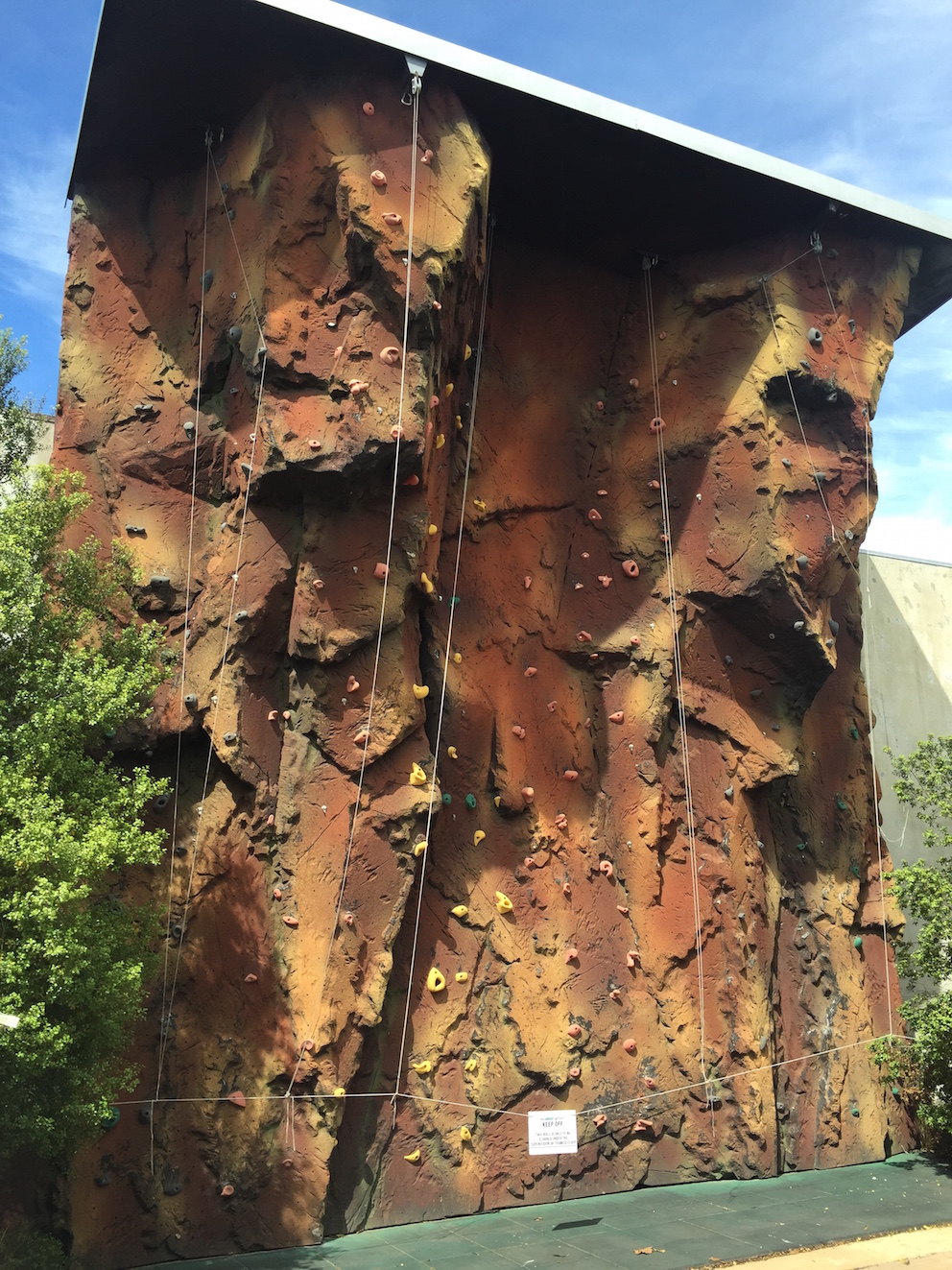 A different view of that structure. The mix of natural features and bolt-on holds makes for different routes up any line.

Though we do make the odd outside Wall, our surfaces are timber-based and are best suited to indoor environments. Outside, they do require more maintenance. Plus they don't get as much use in our experience — you can't climb when its wet, cold or dark!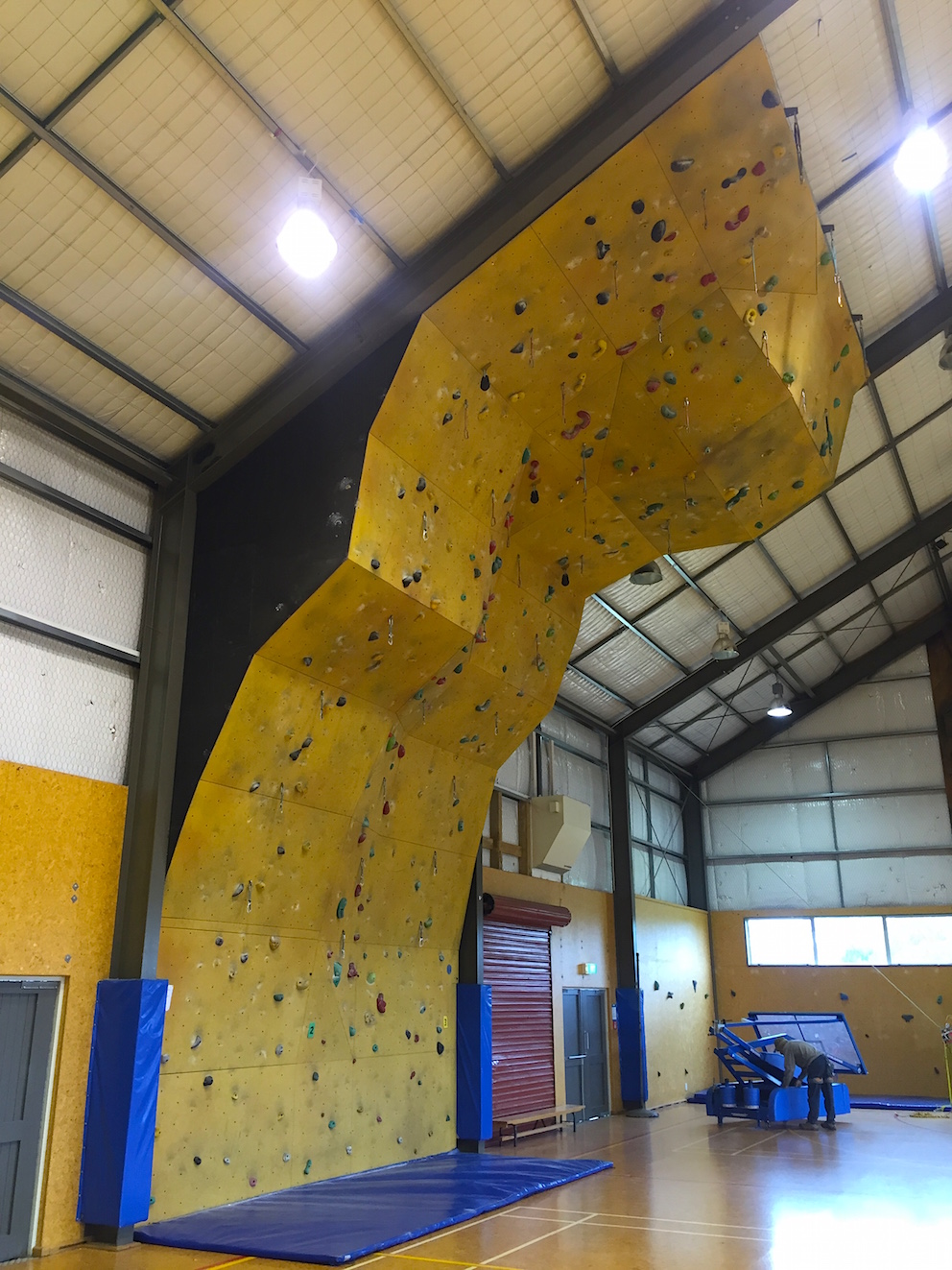 Twizel, a tiny town in the middle of the alpine regions of the South Island has one of the better competition Walls (in SportRoc) in the country. The pitch of the roof is used to create some very difficult overhanging lead terrain.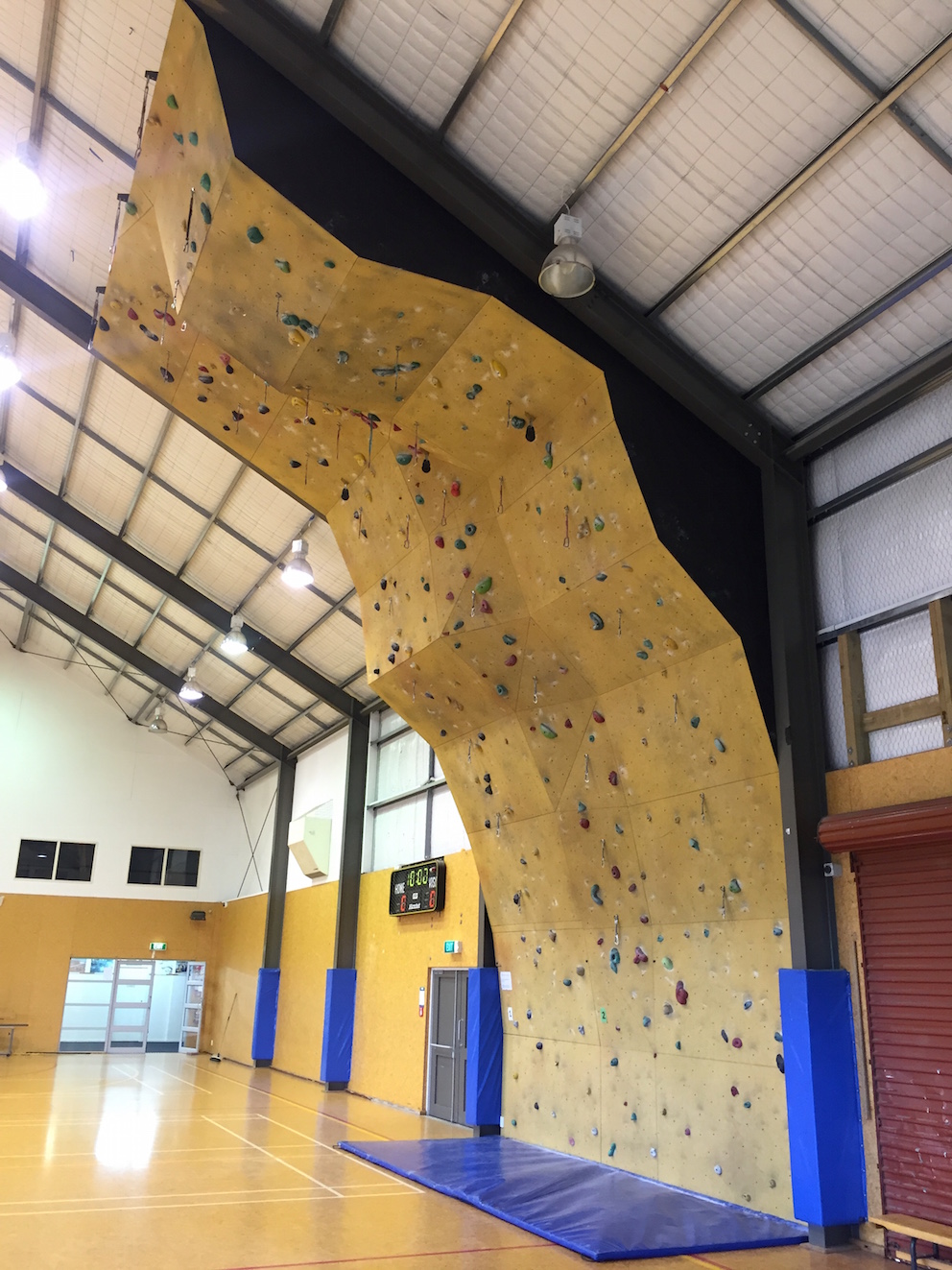 A different view of the Twizel Competition wall. Note there are also top rope anchors at half height to enable top rope use of the lower section.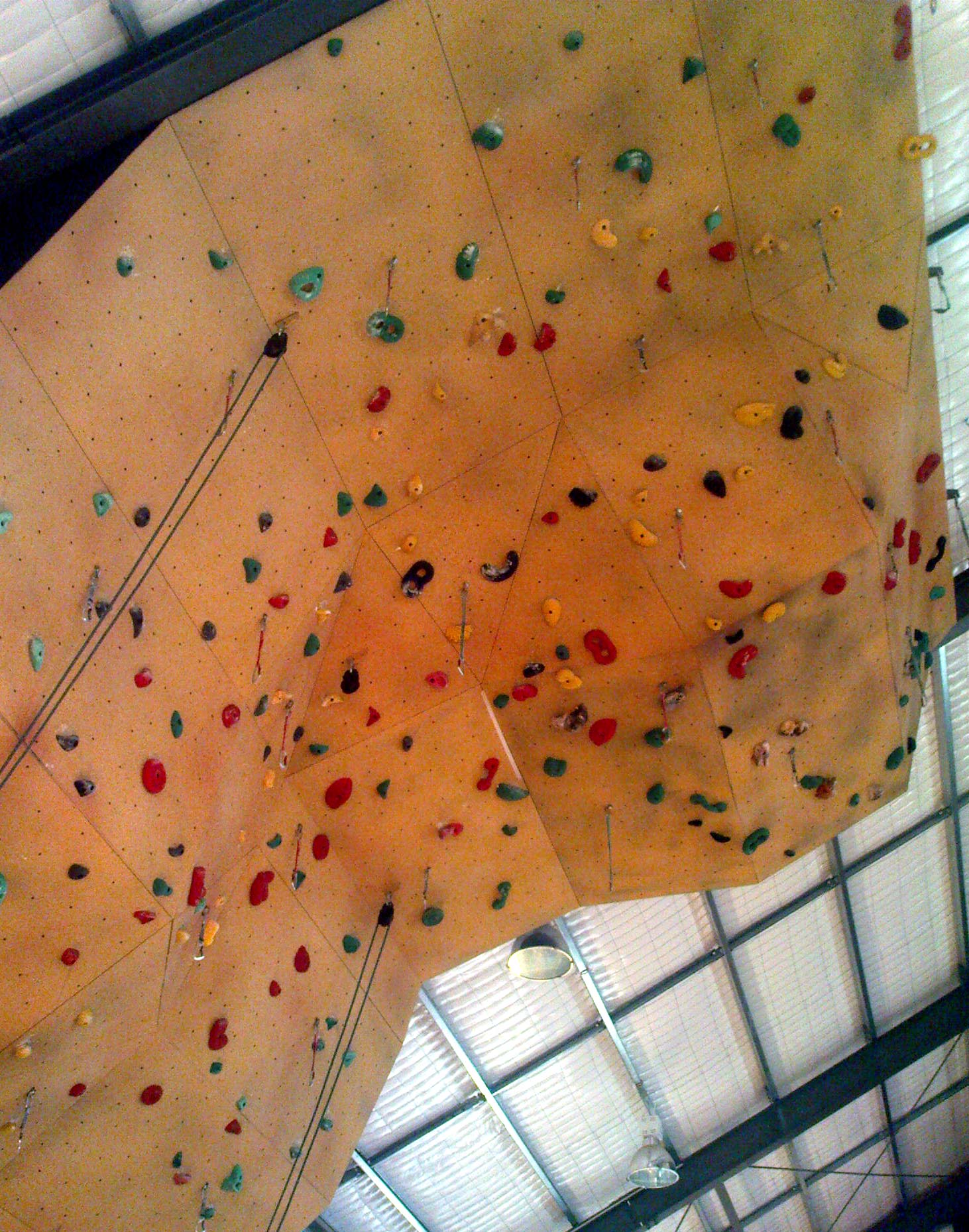 A closer view of SportRoc terrain. Big expanses of surface and smooth transitions. A routesetter's paradise.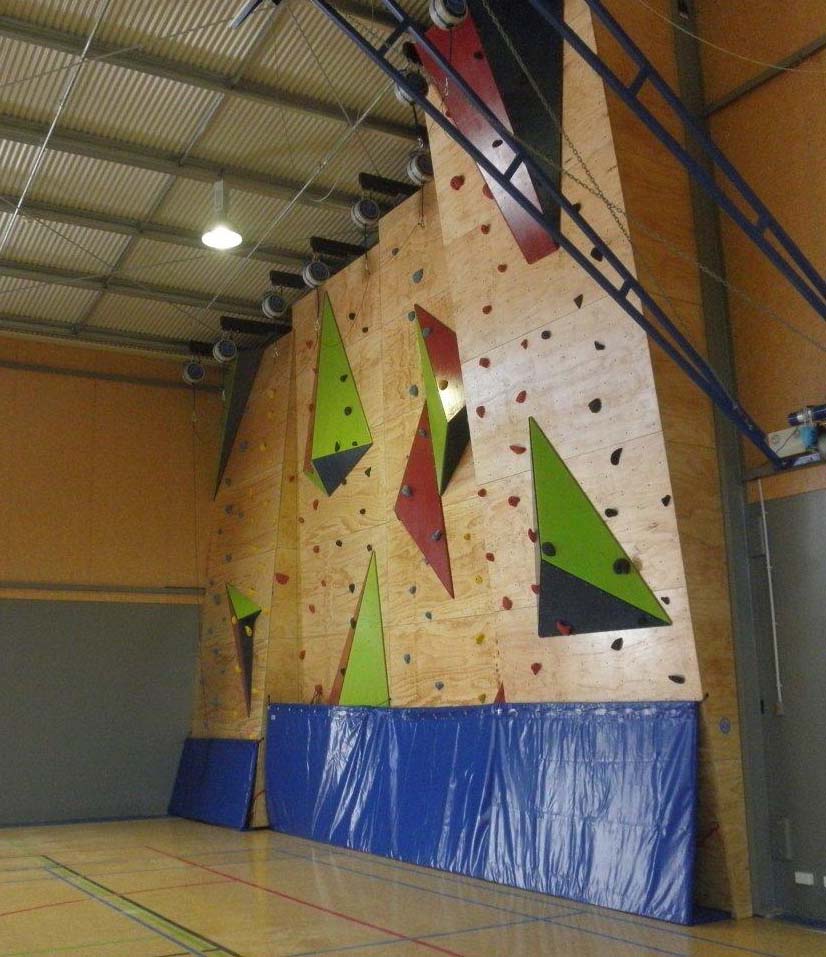 This PanelRoc wall at Tauranga Intermediate School is fitted with TruBlue autobelays. This means the Wall can be used by children who are too young to top rope belay, plus makes session management super-easy.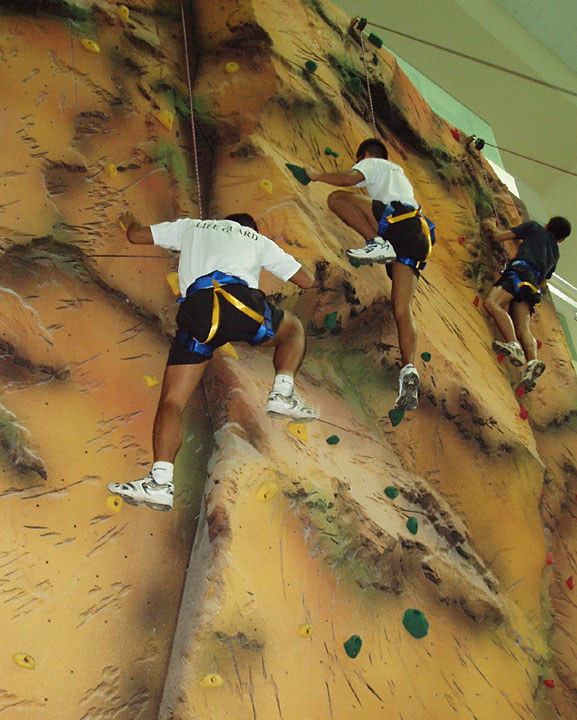 This RealRoc Wall in Singapore is vertical overall (i.e. no overhang), but shows what can be done by us with RealRoc to add climbing interest.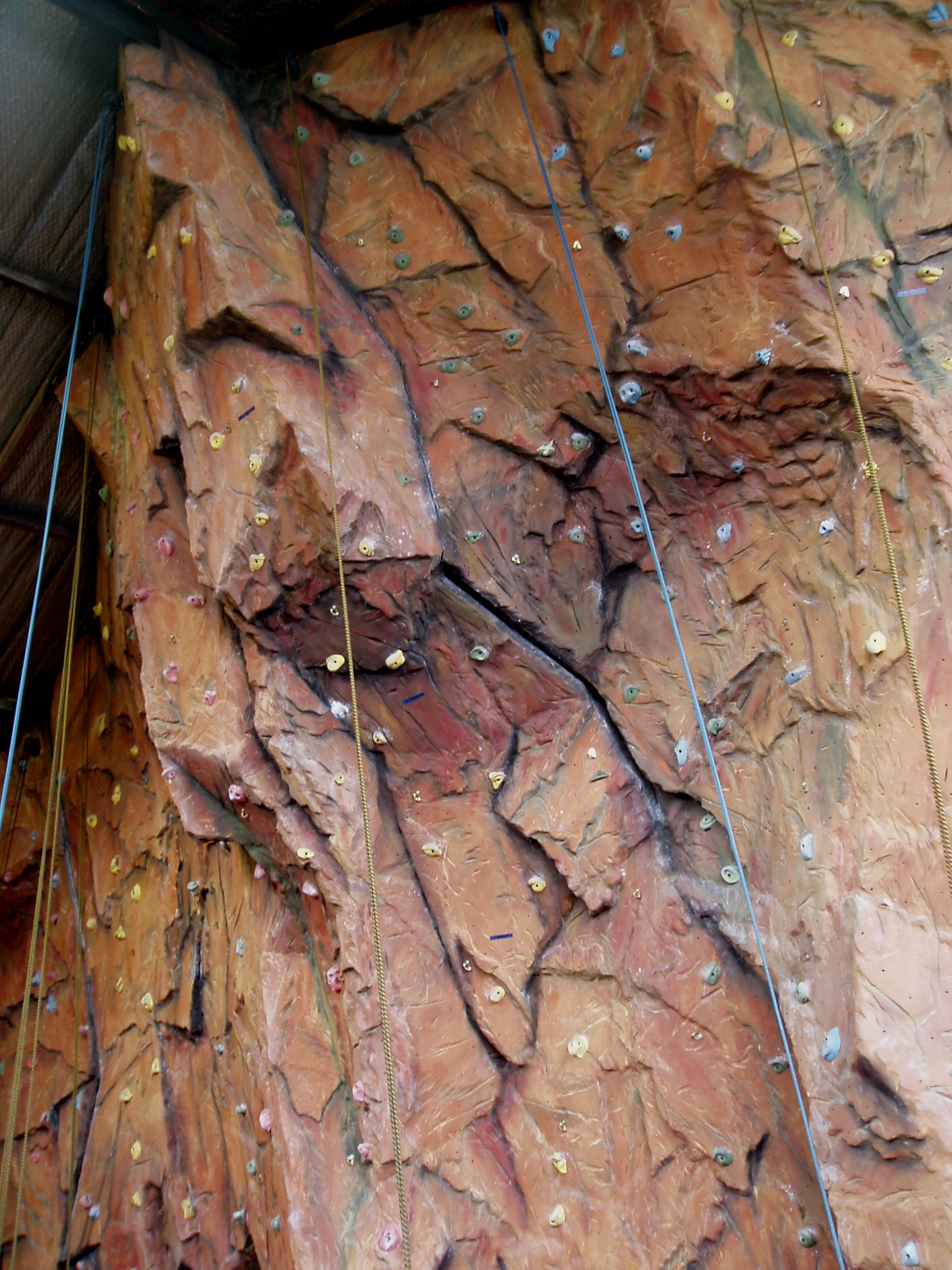 The big hand crack at The YMCA Adventure Centre's RealRoc Wall.  To climb this 'on naturals' rather than using bolt-on holds is a highly-regarded challenge.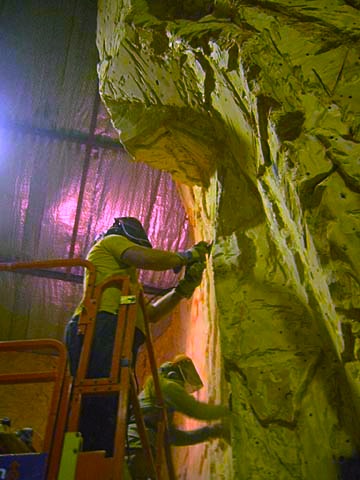 Putting the finishing touches to a RealRoc wall prior to texturing... creating cool micro-features that climbers will find interesting and challenging. It's a labour of love really.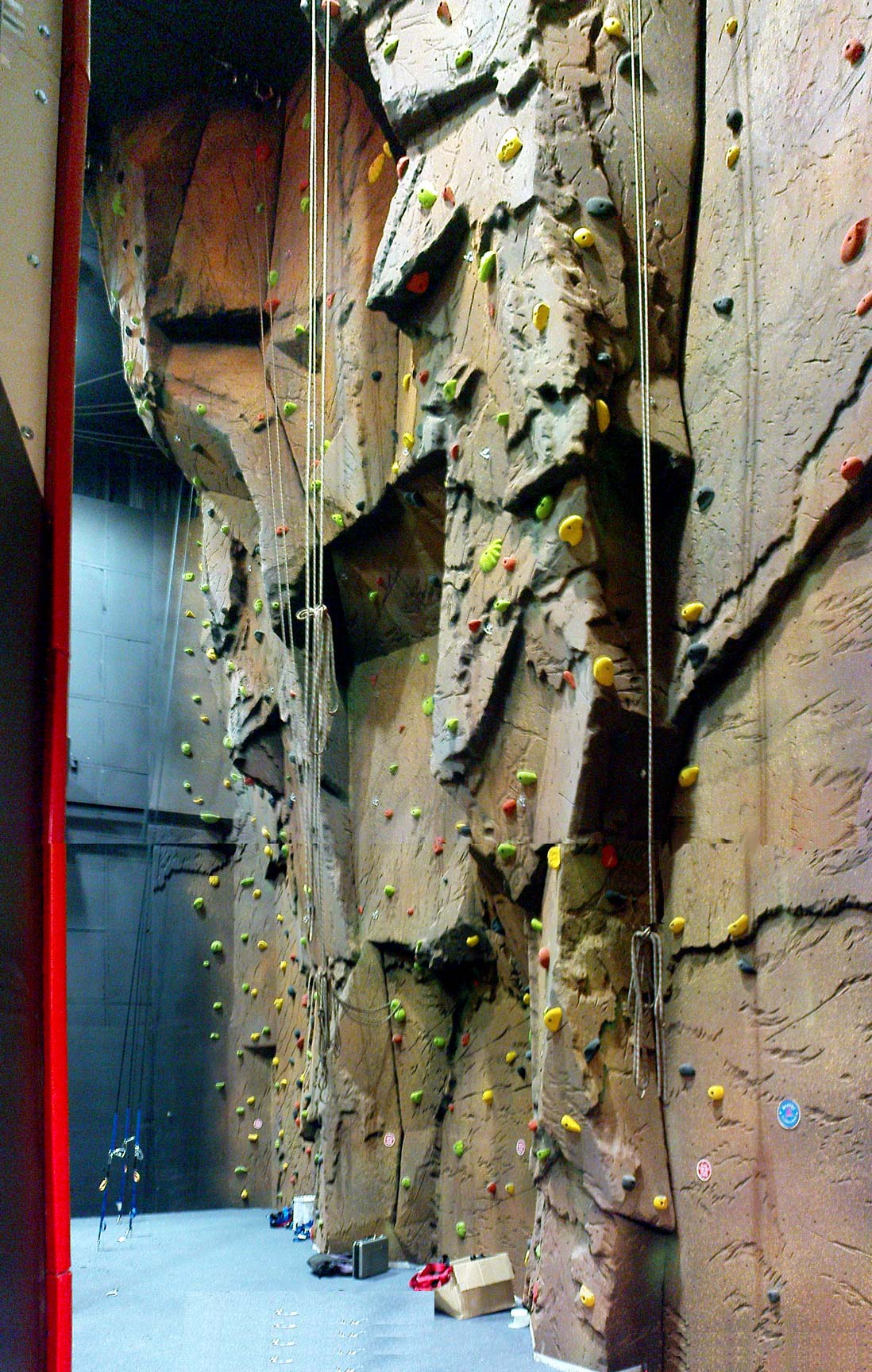 What the ski instructors of Ohakune do in their long winter nights is climb at this RealRoc Wall. To make the wall even easier for the staff to operate autobelays are fitted to many of the routes.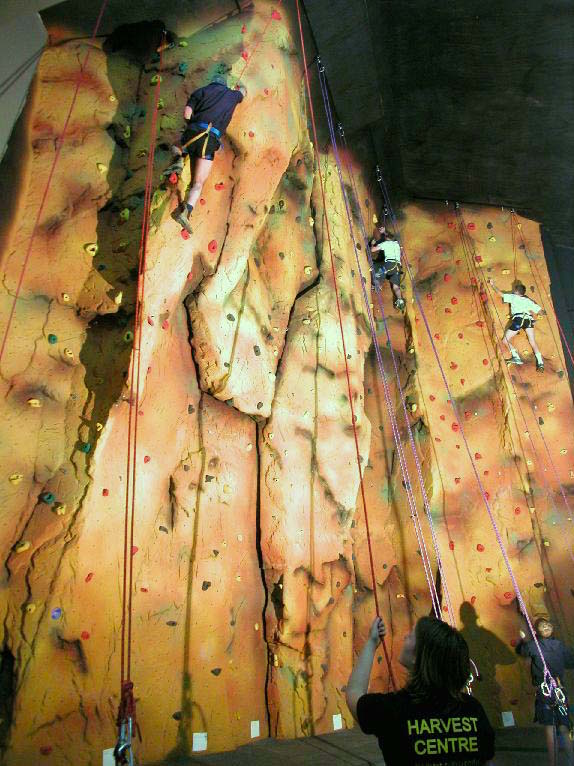 Another view of the Harvest Centre's RealRoc Wall. That buttress really hangs out!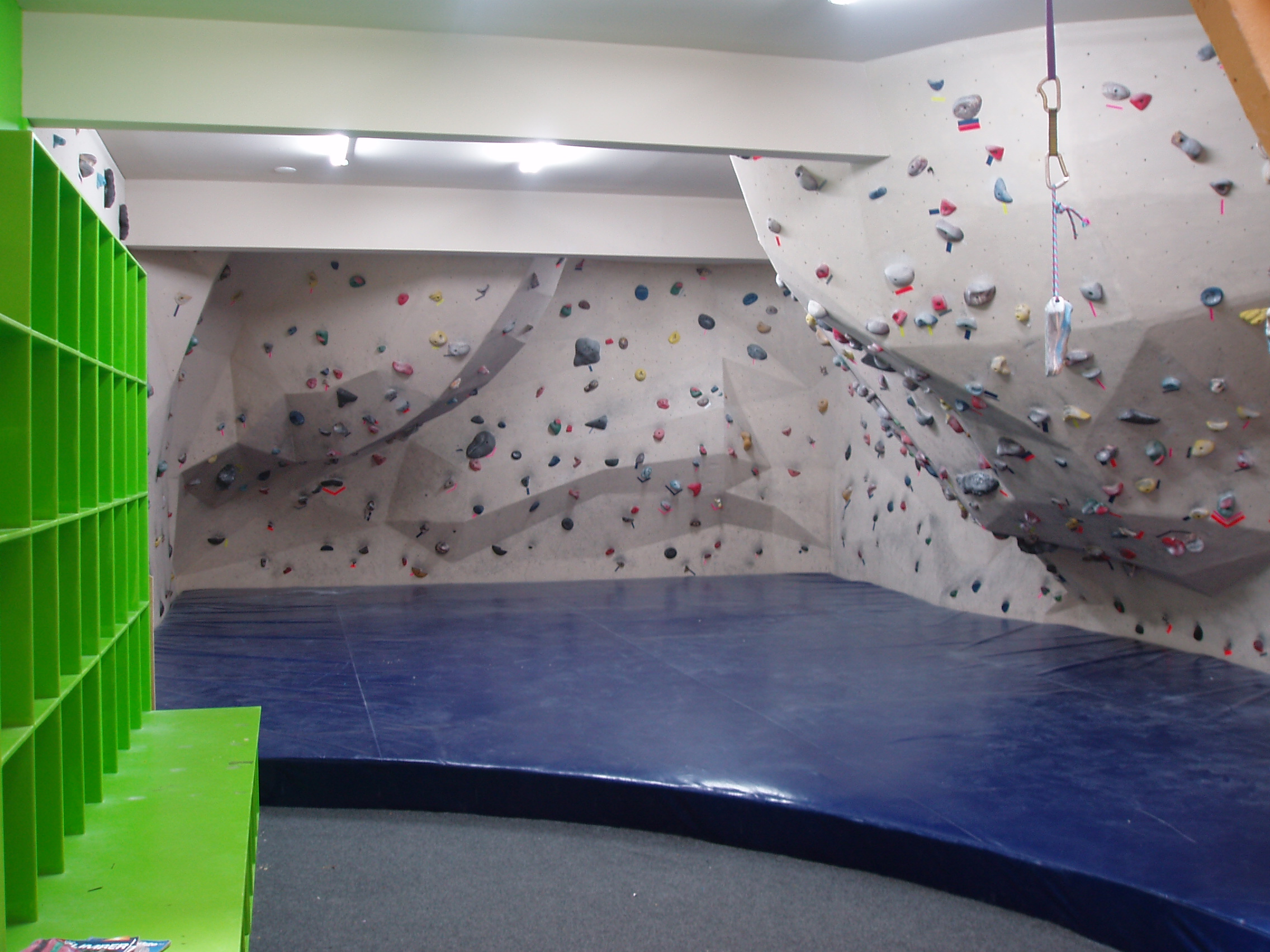 SportRoc bouldering cave at YMCA Christchurch (aka The Roxx Climbing Centre). Lots of overhang!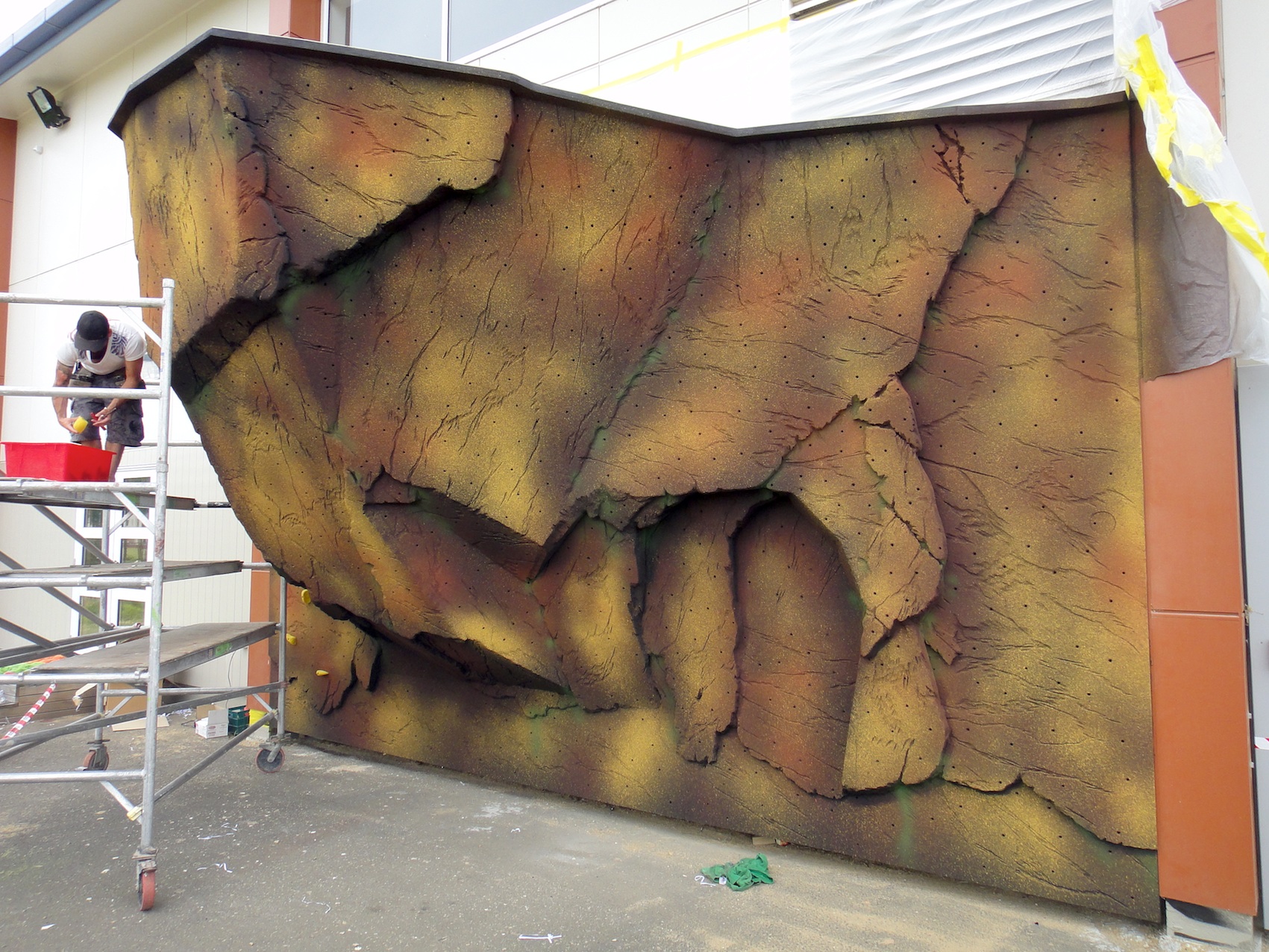 RealRoc Bouldering Wall at Campion College, Gisborne.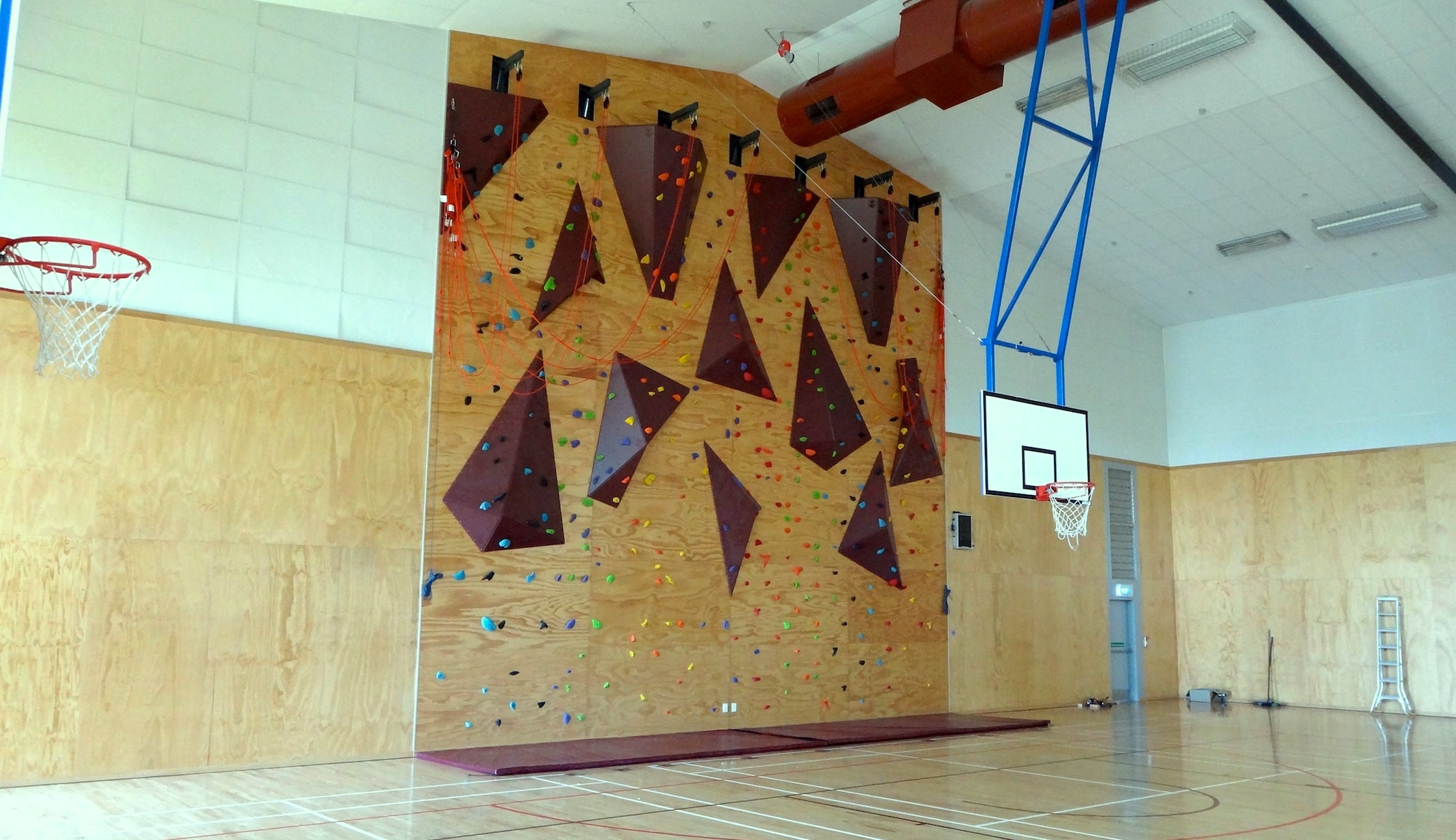 A PanelRoc Wall at Cashmere High School. To save cost, this one is based on a completely flat wall and is top rope only. But it still keeps a full class busy and the 'pods' give some variety of route. Point to note: the swing-down basketball backboard allows the Climbing Wall to use the best climbing real estate in the gym - the highest walls either side of the apex. The more common wall-mounted backboard does not and is the bane of a Climbing Wall designer's existence!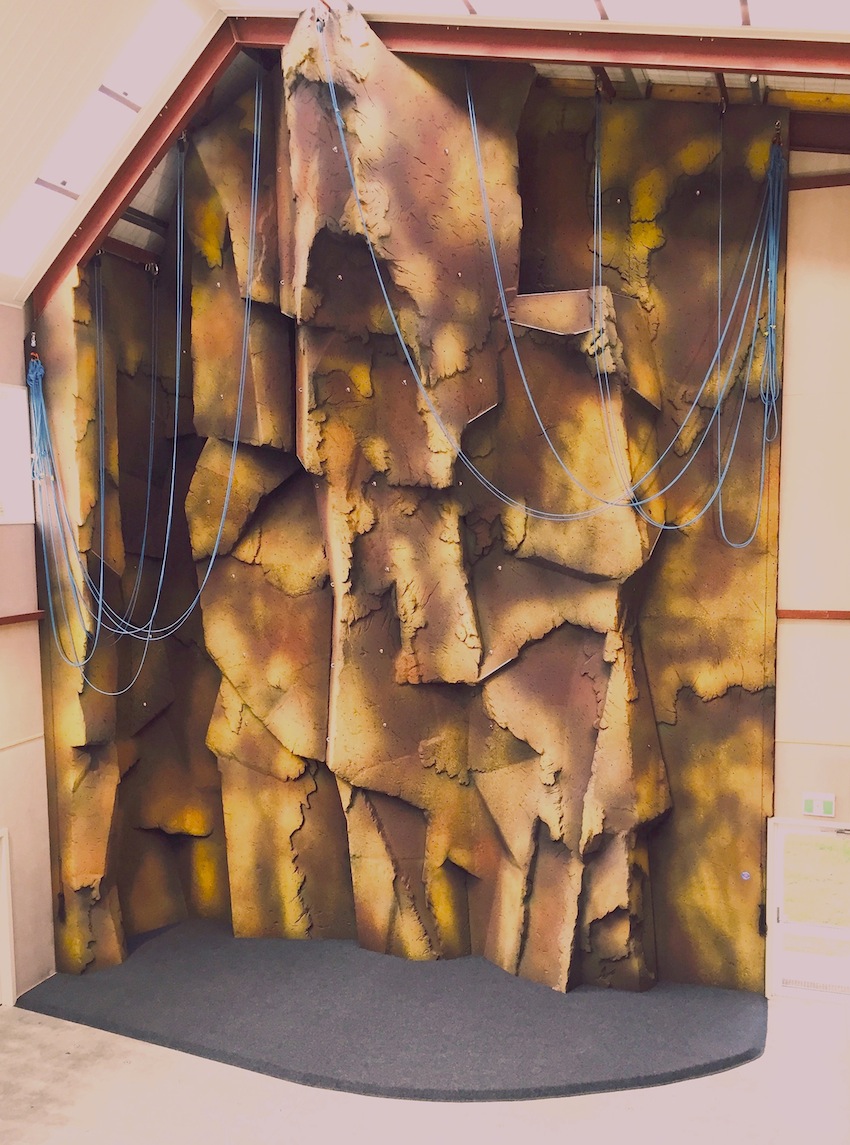 A 10.5 metres high RealRoc Wall at Blue Mountain Adventure Centre, Raurimu. Like all RealRoc Walls it has lead climbing capability built in. Note that the tope ropes can be pulled out of way to free up the floor – we fit most of our walls with this feature. Also note that where a permanent mat can be fitted (many walls have a fold-up mat because there are other uses of the floor space), we have the luxury of continuing the features of the wall to ground level .... looks fantastic and gives more route variety.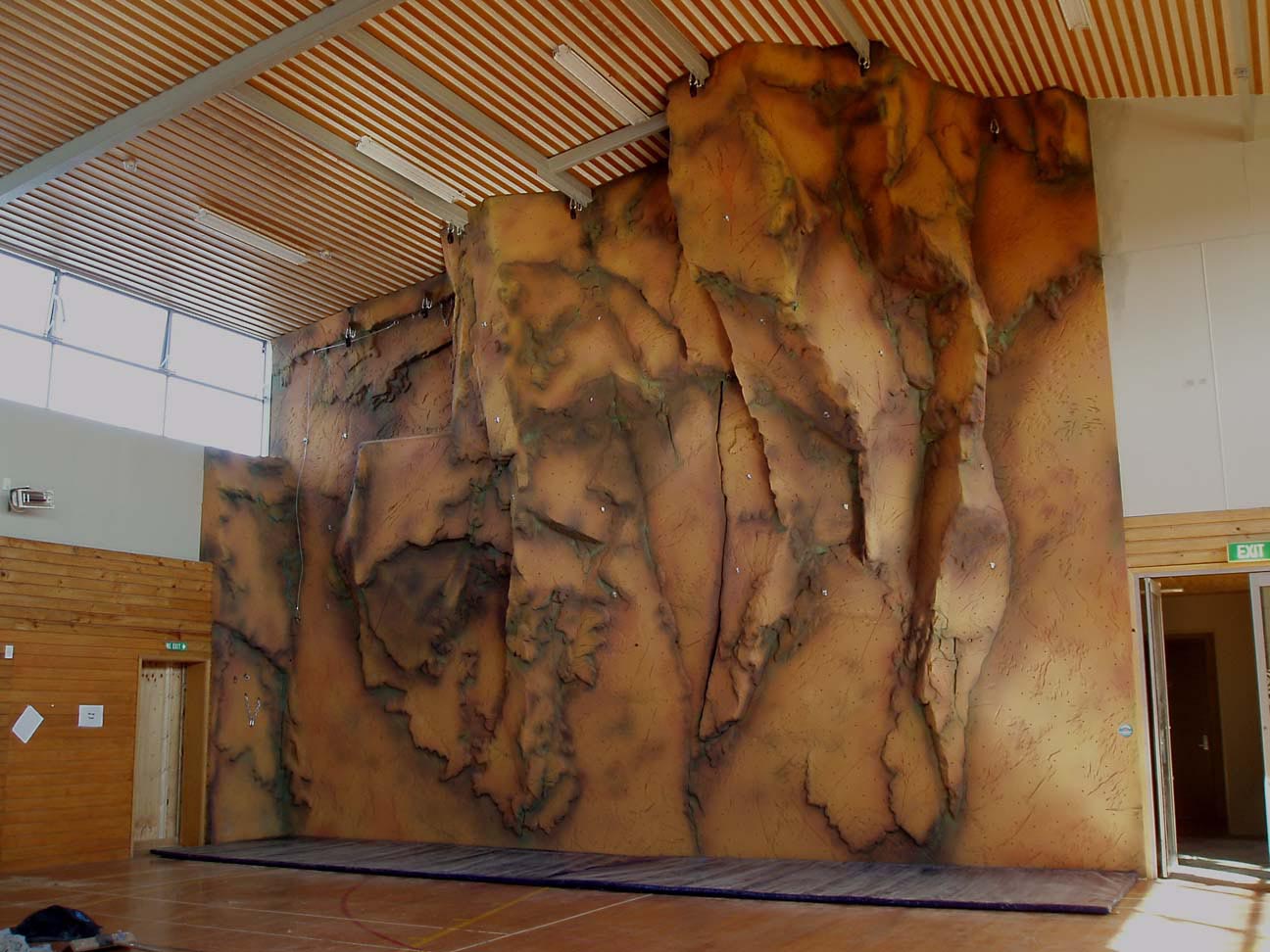 RealRoc Wall at Aoraki Polytech. RealRoc allows a lot of route variety even in a fairly low (7.5 m) space. Abseil/belay ledge accessible from a Via Ferrata.